Tulum Dothee, Owner & Director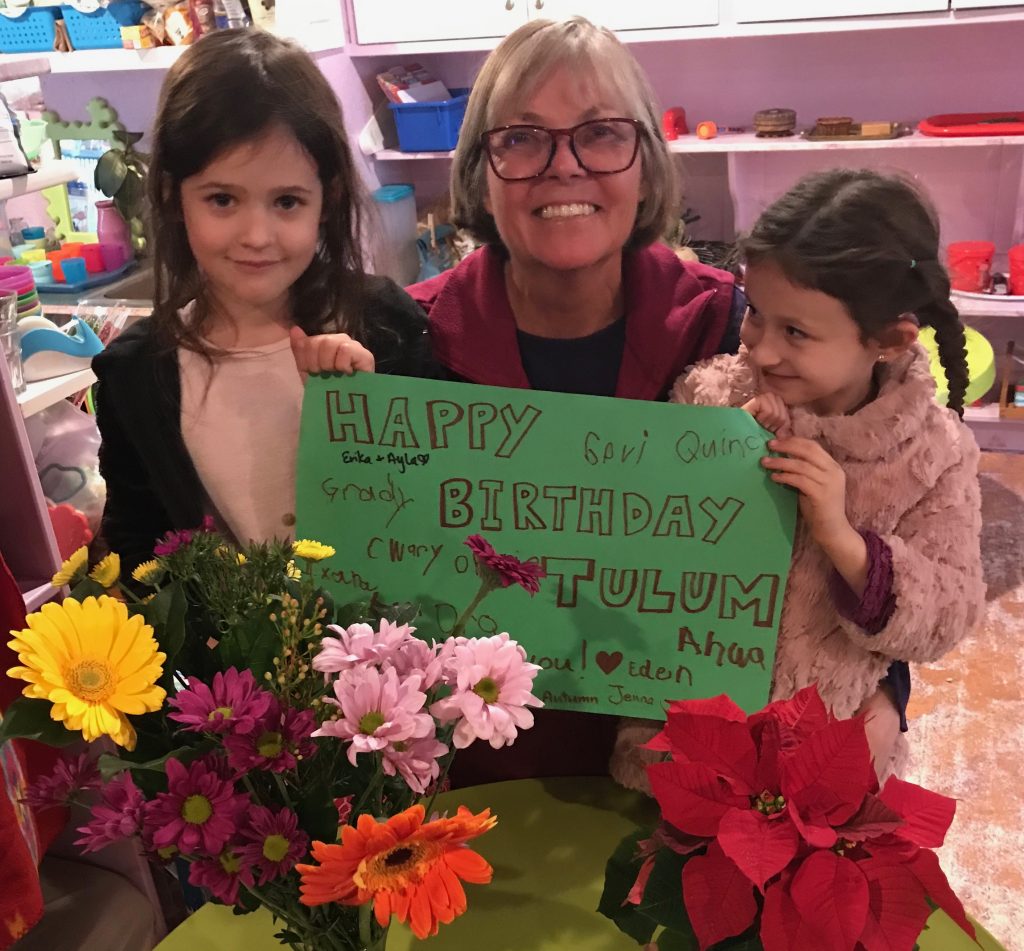 Tulum, here with Ixara and Eden, all three of them are Winter babies! is the owner and school director. Tulum has been involved with Montessori since 1978 and has worked with families since 1971. She holds an Association Montessori Internationale Diploma from London, England in ages 3-6+ years, was trained with the American Montessori Society in toddlers, and holds adult education credentials in child and human development, health education and small business management.
Tulum operates Oakhaven, teaches classes in parenting and personal growth, is a certified clinical hypnotherapist in private practice, writes mindful parenting tip articles and has a degree in Medical Assistance, specializing in family practice and ob/gyn. She is in the process of manefesting a life goal: To create a Parenting Blog!
For more info contact Tulum. Tulum is the Head Teacher and takes care of the office whenever she has a spare moment.
Oakhaven Parent Staff
Oakhaven is Hiring! Part time 

assistants or Co- Teachers needed for summer and next year!
We are a parent participation school. Who else but a fellow parent is going to be as dedicated to creating the best preschool, pre K, TK and summer camp experience for our children!
Oakhaven is a parent participation community.
Parents sign up for shifts in the classroom, office, pool and yard help, and/or monthly organization and cleaning projects.
These gals are a big part of why Oakhaven is so special. Our parent volunteers rotate cultural subjects and apply those subjects to these core areas: art, science, music, cooking, yoga, movement, cultural studies, Spanish and of course the ABC's!
Alanna and Sherlock
Alanna, Beijah and Xaqa's Mom, has been a part of Oakhaven Family since Bei was 2.5 and now Bei will be 8 in August and is back for camp!  Alanna has helped in the class room, around the pool, cleaning, organizing, special projects, you get the idea.  She took a couple years off to add sweet Xaqa to her family and thankfully is back, right when we need her the most! Xaqa is learning our ways to be ready to join us for the coming school year. Alanna always has a ready smile, is sweet, caring and grounded.  Her emphasis is sensory work with the children.  We are bringing out the advanced sensorial materials for Beijah and the other camp leaders and counselors! So Fun!  Of course those wonderful Montessori Materials for the younguns will get their due too!  You'll be seeing Alanna, on Mondays, Wednesdays and Fridays. Lucky all of us!
Lea and Olivia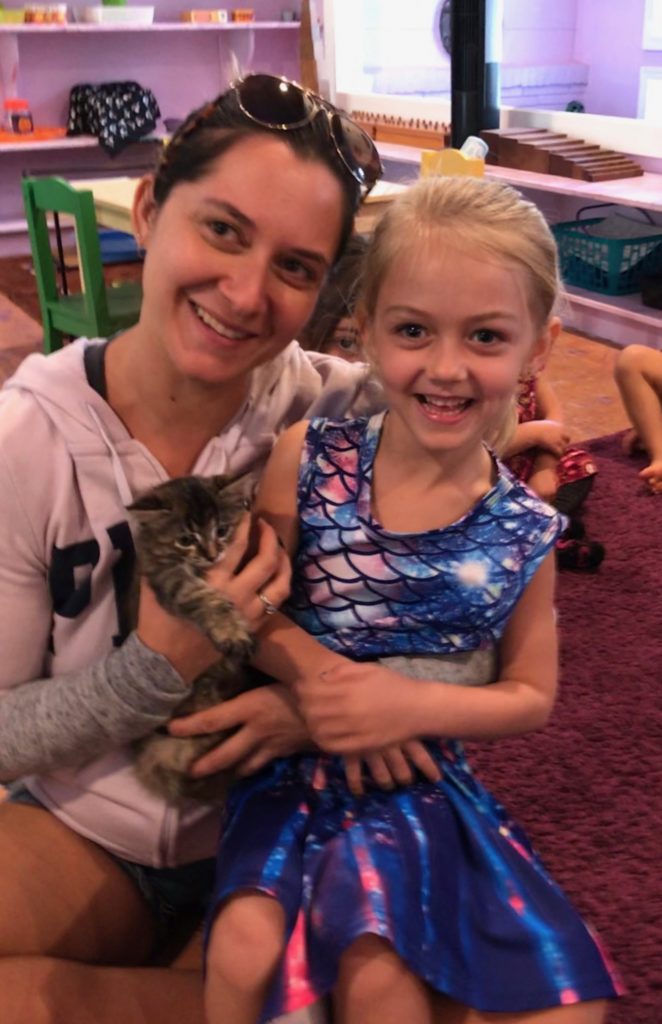 Lea, here with daughter Olivia and their new kitten.  Lea is great at putting together special arts and crafts projects for us.  She also loves to cook Italian food and other delicious items.  Olivia is five and a half and her sister Octavia, putting out a fire below, celebrated her second birthday in August!  Lea and her girls love to help and hang out in the afternoons whether snuggled up warm in the classroom, soaking up the afternoon sun in our great back yard or out by the pool! Lea is here on Tuesdays and Thursdays and can be counted on to help out wherever and whenever needed!  We can always count on Dad, Grant, to come and help out with years chores too! We are grateful for Lea and Grant and their wonderful family!
Octavia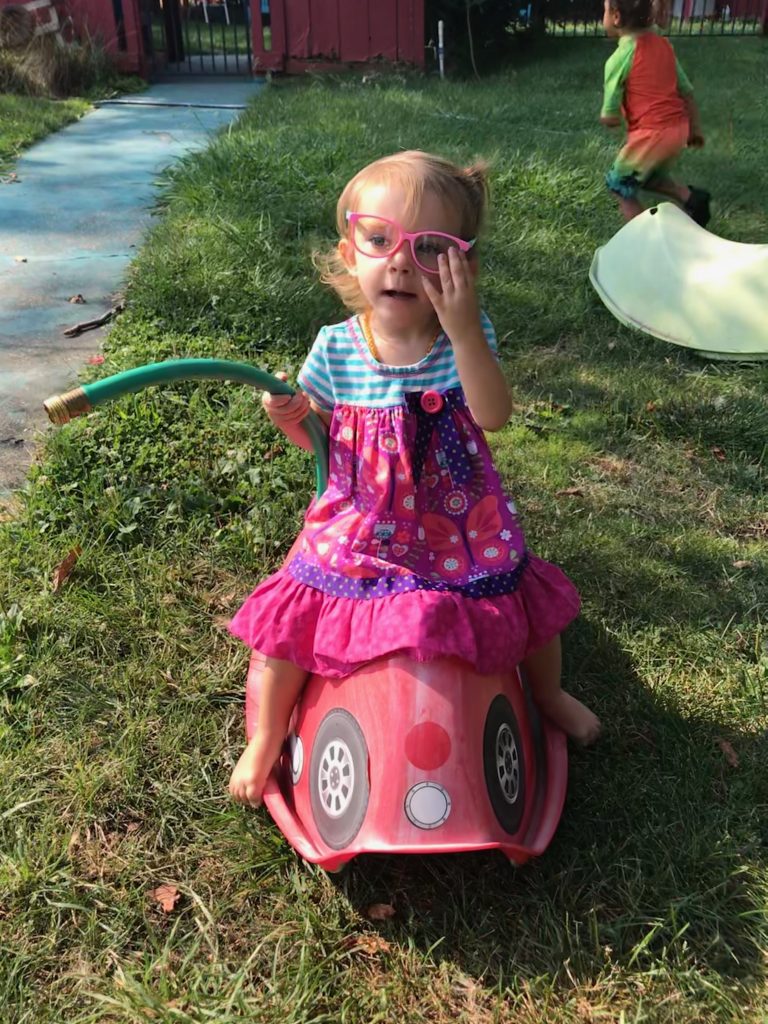 Barbara, Mom to Miranda, who is now in college!!, and various kitties, has been a part of Oakhaven and very good friend to Tulum forever!  Barbara has been in and out of Oakhaven over the years helping with our kiddos, the office, yard, pool duty, you name it.  When she is not here she is busy subbing and doing the after school programs at local schools, and helping at Sammies's Friends.   She's here subbing and visiting, doing arts and crafts as well as other great, fun stuff! Barbara has a great sense of humor, tells it like it is, and is always the loyal friend, plus she bake's the best carrot cake ever, Tulum's favorite, what's not to love!!
Michelle is Amaya's Mom. Both our girls have been a part of Oakhaven for 6 years! Michelle is great at all sorts of things, the office, accounts, helping in the classroom, cleaning and organizing, pool duty, and loves working outside. You'll find Michelle here on Mondays, working in the office and making sense of all the other areas both inside and out. What a year this has been… We are grateful that Michelle is back to lend a happy, helping hand to all. the areas that need her!
Amaya started when she was an adoptable lap toddler at age 2, stayed through her pre K year, then enrichment and now is a regular for summer camp of course!  Amaya is thoughtful, takes her time to do her work and focuses on the task at hand.  Our camp counselors are so happy to see Amaya back, are as all of us!
We are looking for Parent Volunteer Teachers and Subs!
Come learn, play and benefit from joining our Volunteer Staff.
For More info: Call 503 271-1258 or email tulum@oakhavenmontessori.com. 
All of us use Tried and True Mindful Parenting Techniques.  For Mindful Parenting Tips come join a class, learn more: Counseling and Classes. For Info on our discipline policy go to Discipline Policy