Tulum Dothee, Owner & Director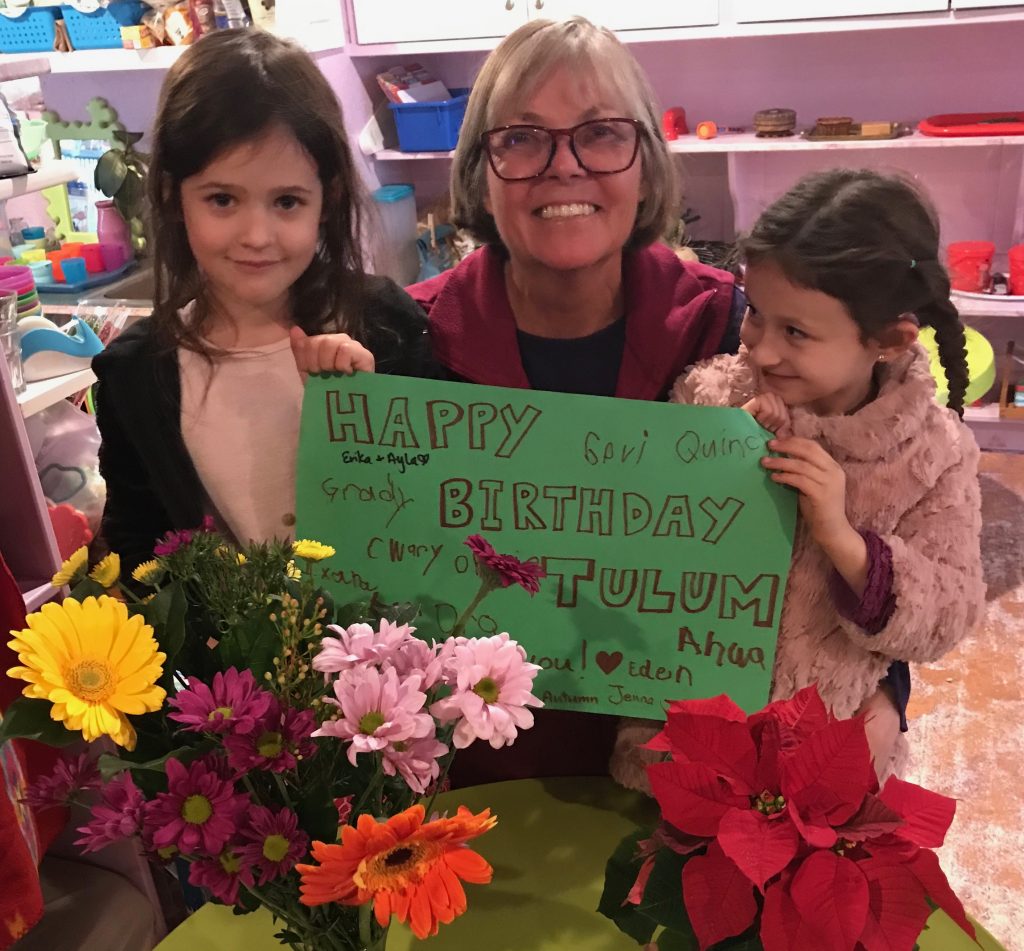 Tulum, here with Ixara and Eden, all three of them are Winter babies! is the owner and school director. Tulum has been involved with Montessori since 1978 and has worked with families since 1971. She holds an Association Montessori Internationale Diploma from London, England in ages 3-6+ years, was trained with the American Montessori Society in toddlers, and holds adult education credentials in child and human development, health education and small business management.
Tulum operates Oakhaven, teaches classes in parenting and personal growth, is a certified clinical hypnotherapist in private practice, writes mindful parenting tip articles and has a degree in Medical Assistance, specializing in family practice and ob/gyn. She is in the process of manefesting a life goal: To create a Parenting Blog!
For more info contact Tulum. Tulum is the Head Teacher and takes care of the office whenever she has a spare moment.
Oakhaven Staff
We are a parent participation school. Who else but a fellow parent is going to be as dedicated to creating the best preschool, pre K, TK and summer camp experience for our children!
These gals are a big part of why Oakhaven is so special. Our parent volunteers rotate cultural subjects and apply those subjects to these core areas: art, science, music, cooking, yoga, movement, cultural studies, Spanish and of course the ABC's!
Kayla, here with her beautiful daughter Quincy and our adorable Sherlock, is here on Tuesdays, Wednesdays and Fridays.  Kayla gets the job done whether it be taking charge of the children, doing an arts and crafts project or cleaning and organizing.  On top of all that efficiency she is calm and grounded! Are we lucky to have her or what! Quincy is 4.5, this is her pre kindergarten year.  She loves keeping busy and has wonderful concentration.  Being in the garden room with her friends is one of her favorite things to do!
Riley,  here with her darling Ahua, is here on Mondays and Thursdays.  She is quite the wiz at art projects and doing sensory activities with our children.  Riley is focused, loving and calm and does a great job keeping our children focused.  Our darling Ahua just turned four and loves to take charge.  A leader in training for sure! She loves bring outside and grazing for edibles.  Summer time by the pool is one of her favorites, she is definitely a water child!
Diane, Charles' Mum, is in the office on Thursdays and in and out during the week.  She wears many hats: our admin assistant, teacher trainer and sometimes classroom teacher.  Diane has been with Oakhaven for six years!  She has a great work ethic and does a smashing job of  getting the office into shape, following the rules and training new helpers. Charles is here for summer camp, wait till you hear Charles' darling British accent! Diane loves to share songs with finger play and movement and we love to do them with her, so fun!
Here's Diane and Laura in their holiday jammies!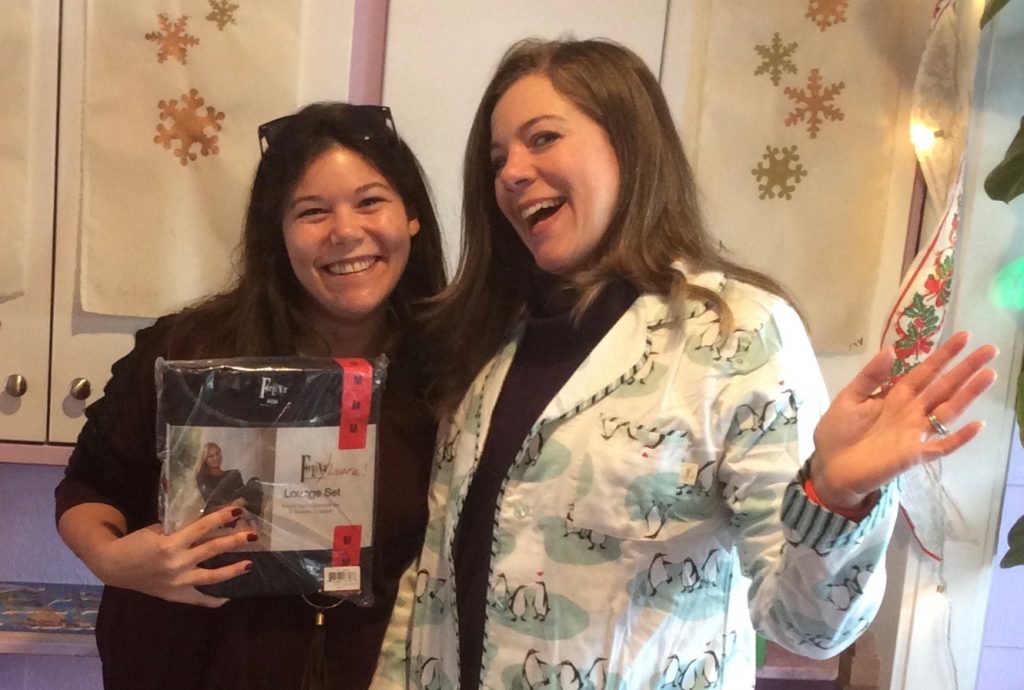 Laura, Tesla, Halley and Lincoln's mom is our go to sub.  You'll see her helping out on Mondays and Wednesdays, and any day she can help out. She was a Mom volunteer here last year with Tesla and Halley so she really knows the drill.  Tesla is in kindergarten now and Halley is 3 and gets to be here on her own! Proud Moment!  Lincoln joined their wonderful family last September 8, 2019. We can always count on Laura!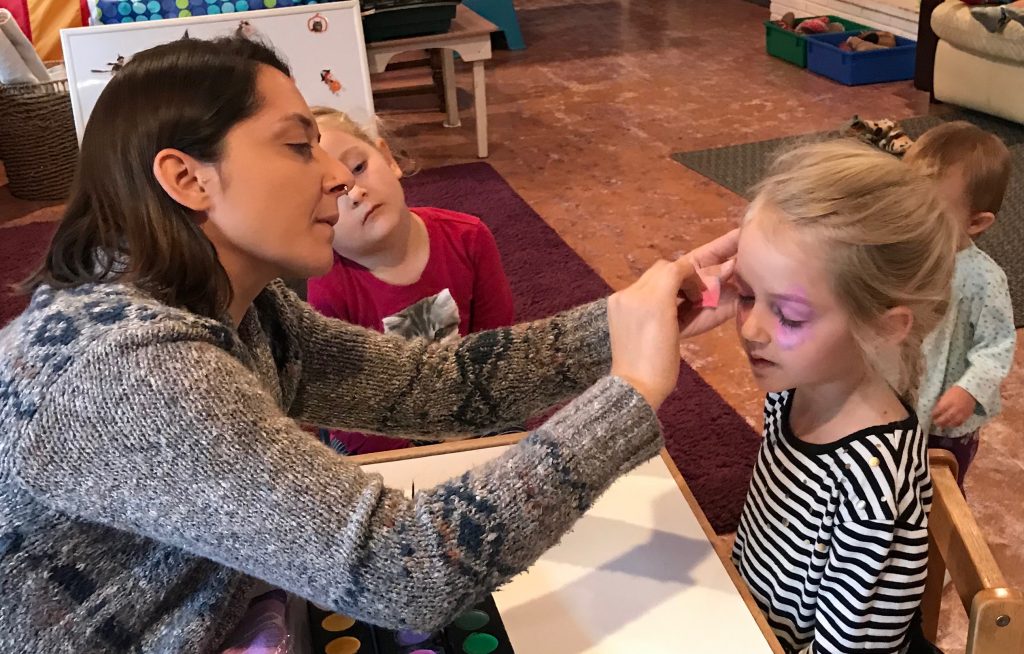 Lea, here painting daughter Olivia's face, is a regular sub here at Oakhaven.  Lea is great at putting together special arts and crafts projects for us.  She also loves to cook Italian food and other delicious items.  Olivia is turning 5 this month and her sister Octavia is 18 months! Lea and her girls love to help and hang out in the afternoons whether snuggled up warm in the classroom, soaking up the afternoon sun in our great back yard or out by the pool! We can always count on Dad Grant to come and help out with years chores too! We are grateful for Lea and Grant and there wonderful family!
We are looking for Parent Volunteer Teachers and Subs!
Come learn, play and benefit from joining our Volunteer Staff.
For More info: Call 503 271-1258 or email tulum@oakhavenmontessori.com. 
All of us use Tried and True Mindful Parenting Techniques.  For Mindful Parenting Tips come join a class, learn more: Counseling and Classes. For Info on our discipline policy go to Discipline Policy