Tulum Dothee, Owner & Director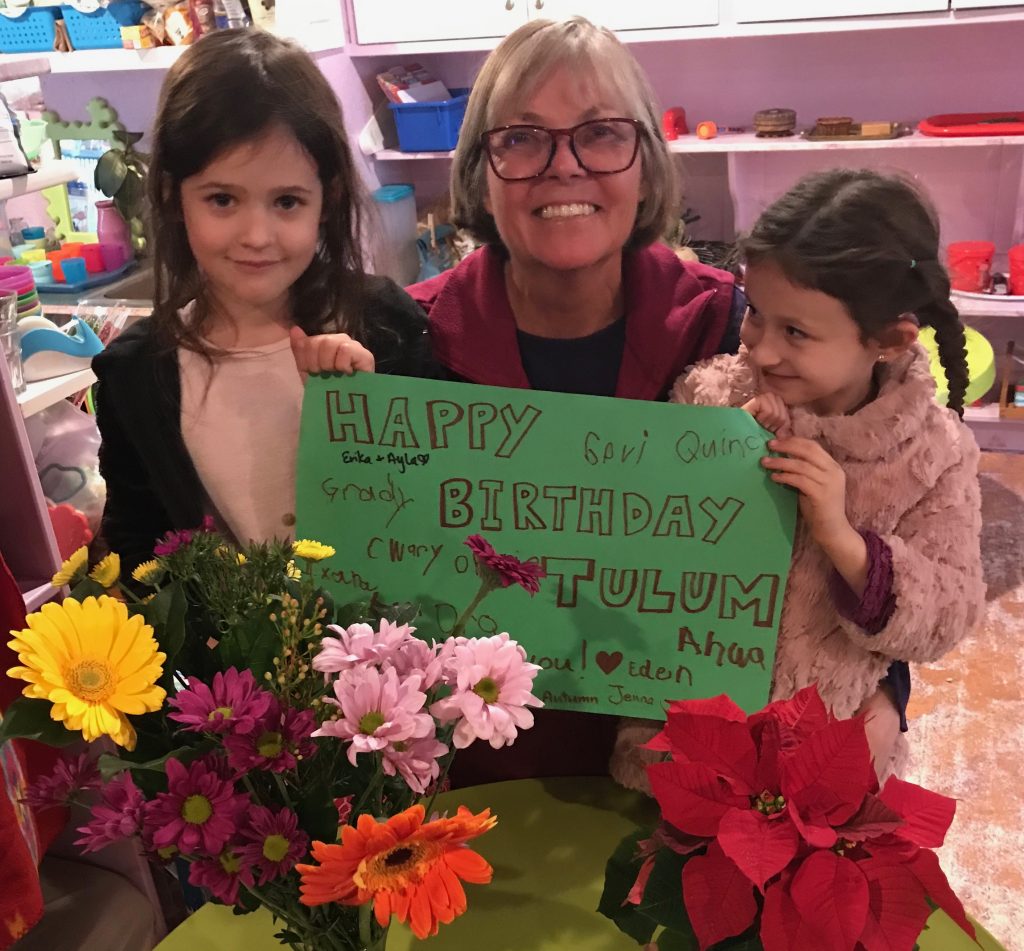 Tulum, here with Ixara and Eden, all three of them are Winter babies! is the owner and school director. Tulum has been involved with Montessori since 1978 and has worked with families since 1971. She holds an Association Montessori Internationale Diploma from London, England in ages 3-6+ years, was trained with the American Montessori Society in toddlers, and holds adult education credentials in child and human development, health education and small business management.
Tulum operates Oakhaven, teaches classes in parenting and personal growth, is a certified clinical hypnotherapist in private practice, writes mindful parenting tip articles and has a degree in Medical Assistance, specializing in family practice and ob/gyn. She is in the process of manefesting a life goal: To create a Parenting Blog!
For more info contact Tulum. Tulum is the Head Teacher and takes care of the office whenever she has a spare moment.
Oakhaven Parent Staff
We are a parent participation school. Who else but a fellow parent is going to be as dedicated to creating the best preschool, pre K, TK and summer camp experience for our children!
Oakhaven is a parent participation community.
Parents sign up for shifts in the classroom, office, pool and yard help, and/or monthly organization and cleaning projects.
These gals are a big part of why Oakhaven is so special. Our parent volunteers rotate cultural subjects and apply those subjects to these core areas: art, science, music, cooking, yoga, movement, cultural studies, Spanish and of course the ABC's!
Barbara, Mom to Miles, who is now in college!!, and various kitties, has been a part of   Oakhaven and very good friend to Tulum forever!  Barbara has been in and out of Oakhaven over the years helping with our kiddos, the office, yard, pool duty, you name it.  When she is not here she is busy subbing and doing the after school programs at local schools, and helping at Sammies's Friends.   She's here subbing and visiting, doing arts and crafts as well as other great, fun stuff! Barbara has a great sense of humor, tells it like it is, and is always the loyal friend, plus she bake's the best carrot cake ever, Tulum's favorite, what's not to love!!
Sharon has joined us to be the TA for the 23-24 school year!  More to follow
We are looking for Parent Volunteers to help with special projects, Sub and help with admin and other office duties! 
Come learn, play and benefit from joining our Volunteer Staff.
For More info: Call 503 271-1258 or email tulum@oakhavenmontessori.com. 
All of us use Tried and True Mindful Parenting Techniques.  For Mindful Parenting Tips come join a class, learn more: Counseling and Classes. For Info on our discipline policy go to Discipline Policy